Community Service
Community service is an important component of the mission of All Saints Catholic School! We believe in celebrating the love of God, self, and neighbor; living, teaching, and sharing the Gospel message. As such, we regularly provide opportunities for our students to serve in the school, in the neighborhood, and in the local community of Richmond as well as reaching out to those in need nationally and globally. Our middle school students complete at least ten hours of community service each year. All students and faculty/staff joyfully help others in a variety of ways throughout the year.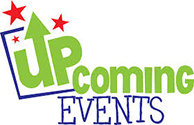 2021-22 Community Service Calendar (proposed)
During the 2021-22 school year, All Saints students will participate in the following community service efforts. We will add dates as they are determined, and we hope to add other service opportunities as needs are made known.
October: Heart Walk, World Missions
November: Campaign for the Hungry
December: Christmas Drive
February & March: Lenten Rice Bowl Collection
All Year: Pop-Tops collection for Ronald McDonald House
---
All Saints Community Service
---
All Saints collects toys for Radio One Toy Drive; provides volunteers – December 2019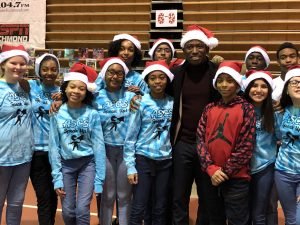 ---
All Saints collects over 1,100 food items for St. Paul's food pantry – November 2019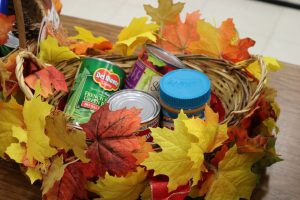 ---
All Saints participates in Heart Walk – October 2019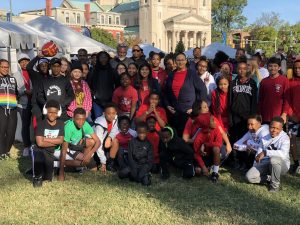 ---
All Saints Makes Strides Against Breast Cancer Walk – October 21, 2018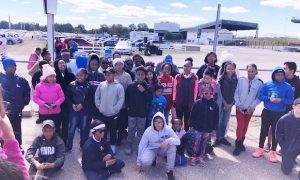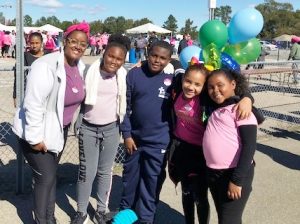 Families also donated money to Breast Cancer research. Each donation was represented by a ribbon on the Wall of Hope.
---
Radio One Richmond Toy Drive for Christmas – December 2017
All Saints families donated over 100 toys to the Radio One Richmond Toy Drive for Christmas. The drive included a  community drop-off  with a live feed with KISS 99.3/105.7 DJ King Tutt. Also, some of the 8th graders helped set-up the give-away and received this compliment from Radio One staff:
"I just wanted to take the time to say thank you AGAIN for partnering with us to collect toys for our Annual Toy Drive! We love being able to work with our clients on community events. The kids that volunteered were extremely helpful, well mannered, and brought the energy we needed at 8am that morning! Some of our staff mentioned that they've never seen kids that wanted to volunteer and looked happy while doing it."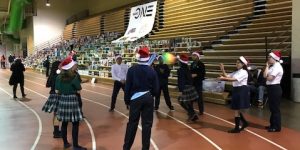 ---
Canned Food Drive for Little Sisters of the Poor & St. Paul's Food Bank – November 2017
All Saints families collected over 1,300 canned goods/non-perishable foods for our Feed the Hungry Campaign.  Our efforts were helped by Jackpot Bingo.  The food collected was shared with Little Sisters of the Poor Assisted Living Facility and St Paul's Catholic Church Food Bank.  The choir made the delivery to Little Sisters of the Poor and sang for the residents there.  Cards for the residents were made by first and second graders.
---
National Hispanic Heritage Month Global Outreach Opportunity – November 2017
In lieu of our traditional celebration, All Saints honored our Hispanic brothers and sisters this year by supporting relief efforts in Mexico and Puerto Rico.  Funds were raised to help the American Red Cross relief efforts for the earthquake victims in Mexico and the hurricane victims in Puerto Rico.  We have families at ASCS who have relatives impacted by these two tragedies.  All Saints also held a special prayer time during Mass on November 2.  Students brought forward prayer candles to create a cross of light in prayer for the victims in Mexico and Puerto Rico.  Our Hispanic families provided some tastes of Spanish cuisine during both lunches following Mass.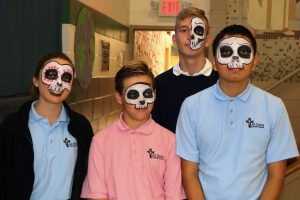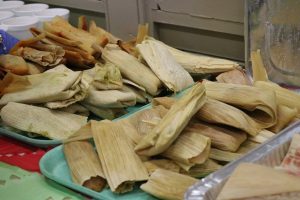 ---
Over 100 All Saints Walkers Make Strides Against Breast Cancer – October 2017
All Saints had a fabulous turn-out at the October 15th Make Strides Against Breast Cancer Walk. Check out photos HERE. A very big thank you to all who walked and have donated. Donations will continue to be collected at the school through October 31. Add a pink ribbon to the wall by making a donation to the fight breast cancer!

---
Hurricane Relief Effort – September 2017
All Saints families raised nearly $800 to assist other Catholic school students in Texas and Florida rebuild their damaged schools after Hurricanes Harvey and Irma. Children learned about the importance of helping our national neighbors in religion classes.

---
Read how All Saints helped St. Thomas' Episcopal Church's Refugee Family Ministry on their website update HERE.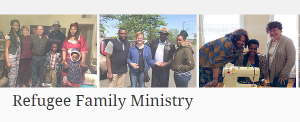 ---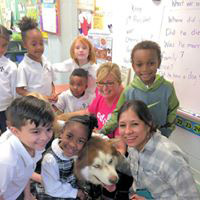 Kindergarteners study animals and their needs – spring 2017. The kindergarten class is putting their science and math skills in action to help local homeless pets.  They have learned about caring for pets and visited with dogs from two local shelters. They practiced counting money to prepare for their bake sale to raise funds for shelter supplies. Thanks to all the students who supported it, the sale raised over two hundred dollars for their furry friends!
---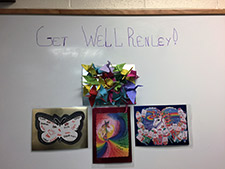 Cards for Renley – February 2017
Renley, is a family member of an All Saint student.  She is a four year old who had to undergo a heart transplant.  She is recovering and growing stronger each day; however, she will be in the hospital for many more days.  All Saints students pray for her weekly and make cards to wish her well.
---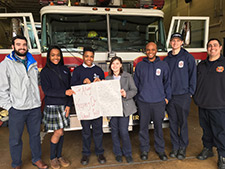 Shout out to out local Firefighters – January 2017
Our student government association took cookies and a BIG card of thanks to our local firefighters.
---
Cooking Breakfast for Ronald McDonald House – January 2017
All Saints' 8th graders cooked and served breakfast to the residents staying at Ronald McDonald one cold Saturday morning in January.  They also coordinated a school wide campaign to save soda can pop tops to raise money for Ronald McDonald House.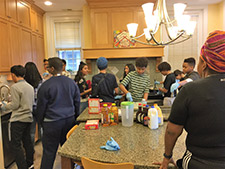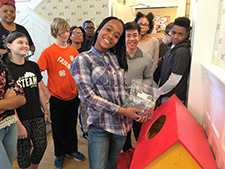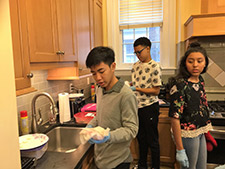 ---
Assisting Home Again and Housing Families First – December 2016
Home Again and Housing Families First help homeless families find a place to live and help them to get re-established with a job and basic needs.  All Saints students provided personal hygiene kits and children's backpacks filled with a snuggly blanket, a stuffed animal and a book for the families using the services of these two organizations.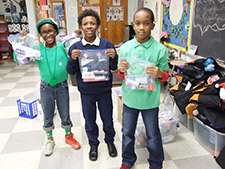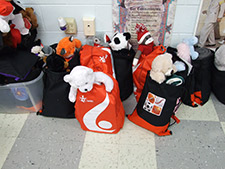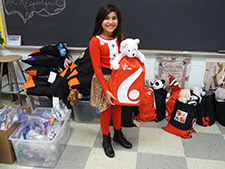 ---
Campaign for the Hungry – November 2016
All Saints family donated over 1,100 canned and other dried food goods to St. Paul's Catholic Church's food pantry. Additionally, the 1st and 2nd grade students harvested and donated greens from the school garden.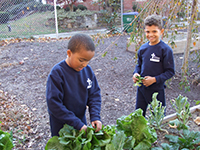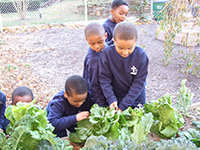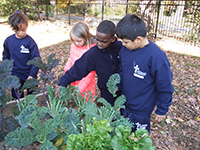 ---
World Missions – October 2016
World Missions Month is celebrated every year in every country wherever there are Catholics committed to building a better world for all of God's people. This year, the Richmond Diocese chose to help St. Theresa Secondary School in Uganda.  The school needs electricity and supplies, including books. As students made donations they decorated helping hands to create a display and encourage others to give.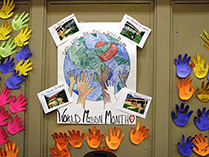 ---
Breast Cancer Research and Cures – October 2016
All Saints families supporting Breast Cancer Research and Cures filled a Wall of Hope with ribbons during Breast Cancer Awareness Month.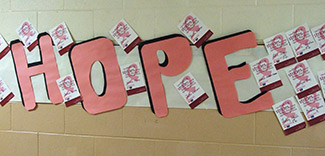 Pope Francis tells us, "Today I ask you, in the name of Christ and the Church, never tire of being merciful."
---
Peanut Butter Collection – September 2016
All Saints' LEGO Robotics teams sponsored a collection of peanut butter for FeedMore.  FeedMore  provides  comprehensive hunger programs that help provide food to Central Virginia's most vulnerable residents: children, families, and seniors.