Uniforms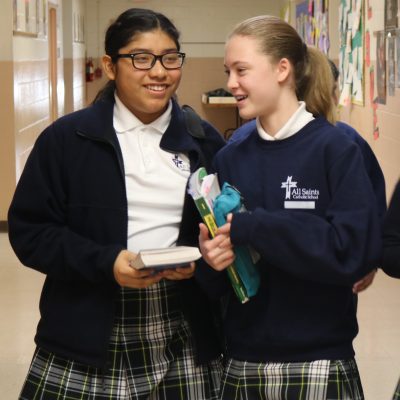 School Uniforms
All Saints Catholic School is a Christian institution, which values education and not materialistic things, objects or fads that would interfere with the learning process.
Adherence to the dress code is mandatory.
Students are required to wear school uniforms each school day. School approved PE uniforms are allowed on assigned PE days.
Parents will be notified if there is an exception to this regulation.
It is the responsibility of the parent to see that their child is dressed in uniform before coming to school each morning.
ALL UNIFORMS are purchased (with the exception of shoes and PE uniforms) from Flynn & O'Hara School Uniforms, which is located in the Stein Mart Shopping Center, 9708 Midlothian Turnpike, Richmond, VA 23235, 804-327-9001 or www.flynnohara.com.
See all the ways to order: Uniform Order Info.
NEW in 2018-19: Please note the following changes to the uniform dress code for 2018-19.  Remember that the intent of a uniform policy is to keep children focused on learning by removing distractions that can be caused by individual style choices.  Changes to the policy were reviewed by teachers and the PTO Board.
Polo shirts: Pre-K to 4th graders will have an additional polo shirt option for the school uniform next year.  Students in these grades may wear hunter green All Saints logo polo shirts beginning in this 2018-19 school year.  The white polo shirt will continue to be an option as well and will be required on "formal school uniform" days which occur periodically throughout the year.  The hunter green and white logo polo shirts are available through Flynn and O'Hara either on-line or at their Richmond store.
Sneakers: Only white, gray, black or navy low-top sneakers may be worn.  Sneakers are allowed with the uniform shorts/skort and PE uniform.  No neon, blinking or quarter-top/high-top sneakers.
Headdress: Girls who wish to wear a headband must wear the official school headband sold by Flynn and O'Hara or a solid navy headband. Please remember that our headdress policy also reads:  Boys and girls are to refrain from wearing inappropriate headdress, such as bandannas, scarves, do-rags, sweatbands, large bows, etc.  Boys and girls are not allowed to add unnatural color to their hair.
UNIFORM Requirements- updated 2018
Uniform School Dress Shoe Guideline
PE Uniforms
Each student is expected to be in proper PE uniform on his/her assigned PE day beginning the week of August 27th.
Orders placed online will be delivered to students in homeroom during the first two days of school.
Order and pay online below using Paypal/Credit Card or complete the PE Uniform Order Form and return it with payment to the office.
When ordering online, order one item at a time and click on 

Continue

 Shopping if needed to purchase more. You can view your complete order once all items you'd like to purchase are added to your cart.
Order PE Uniforms online using Paypal or credit card:
---
---
---
---
---