Uniforms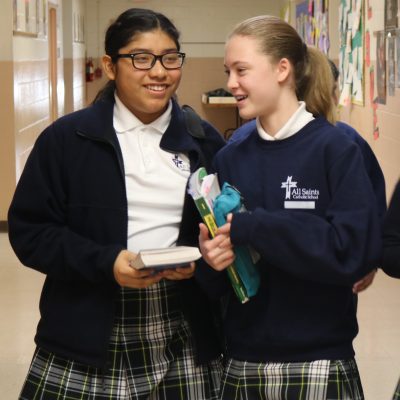 School Uniforms
All Saints Catholic School is a Christian institution, which values education and not materialistic things, objects or fads that would interfere with the learning process.
Adherence to the dress code is mandatory.
Students are required to wear school uniforms each school day. School approved PE uniforms are allowed on assigned PE days.
Parents will be notified if there is an exception to this regulation.
It is the responsibility of the parent to see that their child is dressed in uniform before coming to school each morning.
ALL UNIFORMS are purchased (with the exception of shoes and PE uniforms) from Flynn & O'Hara School Uniforms, which is located in the Stein Mart Shopping Center, 9708 Midlothian Turnpike, Richmond, VA 23235, 804-327-9001 or www.flynnohara.com.
See all the ways to order: Uniform Order Info.
NEW for 2020: Please note that the pastel colored polo shirts are no longer a part of the middle school uniform
PE Uniforms
Each student is expected to be in proper PE uniform on his/her assigned PE day beginning the week of August 26th.
Orders placed online will be delivered to students in homeroom during the first two days of school.
Order and pay online below using Paypal/Credit Card or complete the P.E. Uniform Order Form 2020 and return it with payment to the office.
When ordering online, order one item at a time and click on 

Continue

 Shopping if needed to purchase more. You can view your complete order once all items you'd like to purchase are added to your cart.
Order PE Uniforms online using Paypal or credit card:
---
---