Overview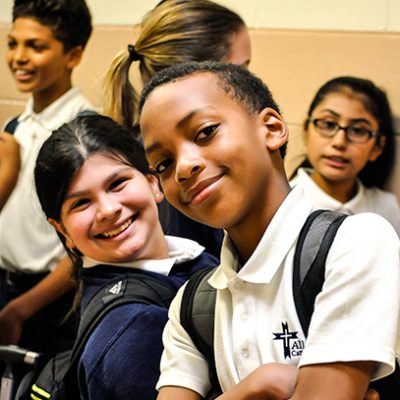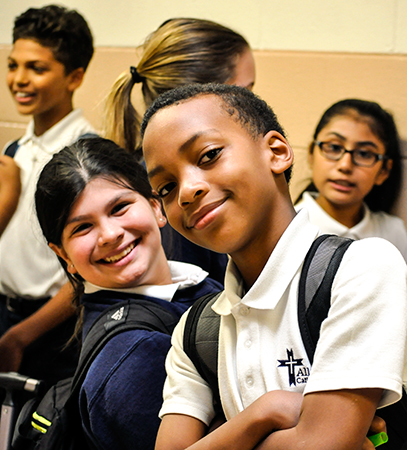 All Saints Catholic School provides superior academics and values in a safe and supportive environment. It is a parochial school that values the diversity of all cultures, creeds, religious affiliations, race and socio-economic standings. The school offers pre-k through Grade 8 and after-school care. A strong individualized learning environment  is fostered by dynamic faculty and staff, of which over 50% have advanced degrees.
All Saints Catholic School adheres to the policies and guidelines set forth for Catholic schools in the Catholic Diocese of Richmond.
Curriculum
Students in pre-kindergarten through eighth grade benefit from a nurturing learning environment that includes:
A rigorous and relevant curriculum is designed to promote critical and higher order thinking skills, 21st century skills application, and inquiry-based and project-based learning (Click here to view our full curriculum)
An integrated curriculum based on National Standards of Learning that is delivered with research based pedagogy including differentiated instruction
Fields trips and guest speakers/programs that support the curriculum
A curriculum that prepares students for high school, college and life
Spiritual and character development
Opportunity for eighth graders to earn high school credit in Algebra I, Spanish I, Geo-Earth Science and World History
Emphasis on learning to converse and write in Spanish
Emphasis on artistic expression through music and visual arts
Emphasis on technology integration with all academic subjects
Emphasis on both Humanities and STEM (Science, Technology, Engineering, and Mathematics)
Emphasis on Environmental Sustainability
Our Title I and Foster Grandparent programs along with volunteers provide reading and math remediation for qualifying students
Our Title III program trains teachers to work effectively with our ELL students
Weekly Specials classes for all grade levels in art, music, physical education, library/media, and Spanish support the core curriculum
In the last 10 years, 100% of our students have graduated from high school including several valedictorians, and 95% have gone on to college. We invite you to visit us and see why All Saints is an invaluable investment for your child's future!
Accreditation
All Saints Catholic School is AdvancED accredited, and the Diocese of Richmond is AdvancED accredited as a school system.
AdvancED is the largest community of education professionals in the world. They are a non-profit, non-partisan organization that conducts rigorous, on-site external reviews of pre-K-12 schools and school systems to ensure that all learners realize their full potential. While their expertise is grounded in more than a hundred years of work in school accreditation, AdvancED is far from a typical accrediting agency. Their goal isn't to certify that schools are good enough. Rather, their commitment is to help schools improve.
Combining the knowledge and expertise of a research institute, the skills of a management consulting firm and the passion of a grassroots movement for educational change, AdvancED serves as a trusted partner to 34,000 schools and school systems—employing more than four million educators and enrolling more than 20 million students—across the United States and 70 other nations.