Ken Soistman Announces Retirement After 51 Years of Service to Catholic Education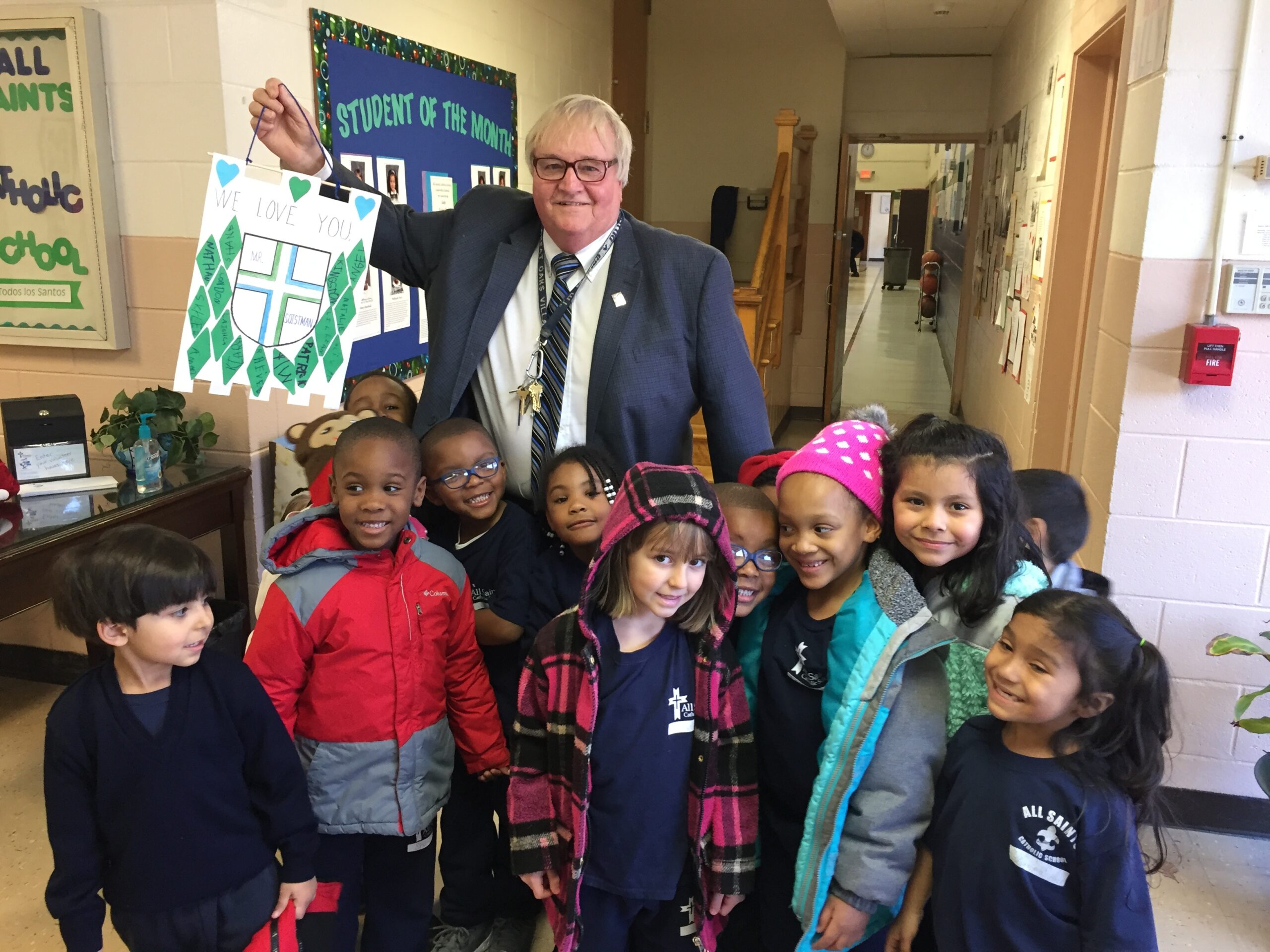 ALL SAINTS LEADER KEN SOISTMAN ANNOUNCES RETIREMENT FOLLOWING 51-YEARS OF SERVICE TO CATHOLIC EDUCATION
February 1, 2021
All Saints Catholic School announces the retirement of Ken Soistman, effective June 30, 2021, with 51 years of service to Catholic Education. Mr. Soistman was hired as principal of All Saints on July 1, 1996. He served as the principal for 17 years and president for eight years. This year marks Mr. Soistman's 51 years in Catholic education, having served 26 years in the Diocese of Orlando, Florida before moving to Virginia.
Mr. Soistman has worked tirelessly to embrace diversity, provide financial stability and build an esteemed academic institution that is highly regarded in the metro area. As the principal and current president of All Saints, he has led the School Board, teachers and parents to embrace a mission based on inclusiveness and to build a welcoming school which is often referred to as "a big family." He has sought to create real-world diversity and equity by embracing the Segura Program for Catholic Hispanic immigrant families, engaging in "playground diplomacy" with Northside families and furthering the African-American history of the school. Mr. Soistman personally gave hundreds of tours and secured hundreds of thousands of dollars of tuition assistance, along with cooking lunches and driving the bus, among other things, to ensure that families who seek more for their children have the opportunity regardless of their economic standing, ethnicity or religion.
Analytical by nature, Mr. Soistman has ensured that All Saints is financially sound; the school has no debt, there is a strong development program and operating budgets are fiscally sound. When the 2007 Great Recession hit, it was hard on All Saints families and enrollment plummeted leaving the school in debt and with an annual operating deficit. Inspired by Mr. Soistman's passion and the school's mission, families, staff, community volunteers and donors orchestrated a "come-back" over the next several years, pulling the school into financial solvency. Always ready to "walk the talk," Mr. Soistman personally managed and participated in BINGO to fundraise for the school every weekend and holidays for over four years. Thanks to his leadership, enrollment went from 101 students in 2009, to over 200 within five years, with a consistently high retention rate.
All the while, Mr. Soistman worked to ensure students had all the academic tools they needed to excel. He was responsible for overseeing and finding ways to fund many academic and technology improvements and expansions. He helped broaden extra-curricular opportunities for students, including the school's award-winning LEGO Robotics programs, its recognized choir and budding sports programs. He has often been seen picking up trophies or uniforms, driving the bus to practices or attending competitions.  Perhaps most importantly, 100% of All Saints students have graduated from high school, including several valedictorians and a Bill Gates Scholar, and 90%+ have gone on to college. For many of our students, they are the first in their family to attend college.
Mr. Soistman has served as the school building's "caretaker" over the last 25 years, personally maintaining the HVAC system, painting, mowing or replacing lights, among many other things. Mr. Soistman's crowning effort is making the build-out happen—a dream since the school was built in 1967. From securing the school's first million-dollar gift to overseeing the day-to-day construction, he has ensured the school will have the additional 6,800 square feet of space it needs to help students continue to thrive. Most importantly, he has safeguarded that the build-out is completely funded and that not one dollar has come from tuition or school operating funds, advancing the school's long-term sustainability.
Mr. Soistman is a true servant leader, doing everything from fixing the buses to checking-in with struggling fourth graders. His sense of humor and genuine personality earn him the respect of families, staff and donors alike. Many donors, members of the Board and faculty and staff contribute their commitment to All Saints to Mr. Soistman's mission-driven example. Mr. Soistman's leadership ensured that All Saints provided a remarkable education opportunity for hundreds of families, many who never thought the opportunity was possible for their children. Although he is the first to give credit to others for the school's many successes, Mr. Soistman's hard work and dedication have made All Saints a true "gem." He truly will be missed.
All Saints looks forward to inviting all to celebrate Mr. Soistman's achievements at a retirement party later this spring or summer, as conditions permit. Additional information will be made available on the school's website and through announcements as the time draws near.
 Please see Mr. Soistman's personal letter Ken Soistman RETIREMENT letter_final.