Donate
Donate on-line:
Making a donation online through PayPal is fast, easy and secure. Click on the Donate icon above to make a difference today!
---
Donate by phone:
804-329-7524
---
Donate by mail:
Send a check to:
All Saints Catholic School
Attn: Alyssa McBride
3418 Noble Ave.
Richmond, VA 23222
Please click here to download our remittance form.
Donations are tax-deductible: IRS tax-exempt number (Federal EIN #): 54-1199580

ALL SAINTS' THE FUTURE IS NOW! CAPITAL CAMPAIGN
THANK YOU!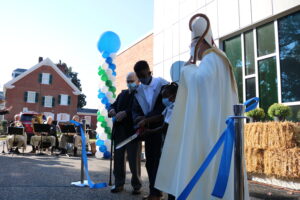 When All Saints was constructed 50+ years ago, its design allowed for easy future expansion to occur by converting the carport into finished rooms. Finally, the future is now; poised with a million-dollar matching gift from Weinstein Properties, All Saints will revitalize its physical space by adding 6,800 square feet of learning and administrative space and configuring current areas to their best use. This expansion allows All Saints to continue to provide students with all the tools they need to excel in high school and beyond.
All Saints Day Dedication and Ribbon-Cutting  – Monday, November 1, 2021
See the photos HERE.  Future is Now Final Report – November 2021
All Saints Day Groundbreaking Ceremony – Friday, November 1, 2019
See the written summary All Saints Groundbreaking Recap  See more photos of the historic event HERE.  See the recap video HERE.
All Saints Million Dollar Day – Tuesday, August 27, 2019
See the summary HERE  See more photos HERE
---
Thanks to the generosity of Weinstein Properties and many other donors, the All Saints' The Future is Now! $2.3 million campaign has been met!
For more information about the campaign or the school, please contact: Alyssa McBride, Director of Development & Communications, amcbride@allsaintsric.org, 804.329.7524 x 111.
Thank you!
---
OTHER WAYS TO GIVE
Everyday Ways to Support All Saints
State Tax Credit Scholarship Program
Gifts of Stock
"Breakfast with the Saints"
Knights Circle
Legacy Society
#igiveCatholic
---
Everyday Ways to Support All Saints
Did you know you can support All Saints when you go to the grocery store or shop online? Click HERE to learn about the programs you can participate in and support All Saints.
---
State Tax Credits for Donors & Scholarships for All Saints Students; It's Win-Win!
Through the Virginia Education Improvement Scholarships Tax Credits (EISTC) program, individuals or businesses making contributions of $500 or more can receive a Virginia TAX CREDIT equal to 65% of the donation. The monies are used for students at or below 300% of the poverty level. All Saints is very grateful to the many donors who currently provide scholarships through this program for more than 70 students annually. Pre-authorization is required before a gift can be made through this program. To receive more information, please contact Alyssa McBride, Director of Development and Marketing at (804) 329-7524 or amcbride@allsaintsric.org.
---
Gifts of Stock – please note NEW ACCOUNT (May 1, 2021)
Making a gift of securities is simple and offers a number of valuable financial benefits: 1) you can donate appreciated stocks, bonds or mutual funds, 2) the total value of the stock upon transfer is tax-deductible, and 3) there is no obligation to pay any capital gains taxes on the appreciation. Stock Donation Procedures_All Saints 5_1_21 for easy-to-follow instructions to donate your appreciated stock directly to All Saints.
---
"Breakfast with the Saints"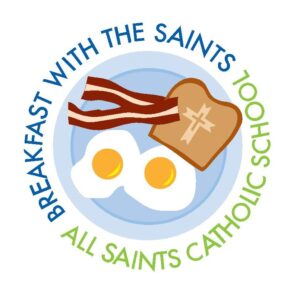 Held each spring, "Breakfast with the Saints" is All Saints' major fundraiser. The event has raised over $1.7 million in eleven years. This on-going support provides the school with a reliable and consistent source of income. The free, one-hour breakfast and program showcases the school's many successes and share ways the community can help grow the school's mission. Table Hosts personally invite guests to fill tables of ten. During the program alumni, students, teachers and parents share how their lives have been changed by their experiences at All Saints. Guests also enjoy songs performed by the entire student body. At the conclusion of the moving program, guests are asked to consider supporting the mission of the school through one-time gifts and multi-year pledges. To learn more about the effort, please contact Alyssa McBride, Director of Development and Marketing at (804) 329-7524 or amcbride@allsaintsric.org.
See the photos from the 2022 Breakfast with the Saints HERE.
See the program:  Future is Now insert   2022 Breakfast Program.
Please contact Alyssa McBride at amcbride@allsaintsric.org to participate. Thank you!
---
Knights Circle

The Knights Circle is a new endeavor by All Saints to recognize those who have supported All Saints with a substantial financial gift of $1,000 or more. Often, these donors give at this level annually. The All Saints mascot is the Knight. A Knight is an elite warrior sworn to uphold the values of faith, loyalty, courage, and honor and who exemplifies the Christian faith. Knights were the entrusted defenders of the kingdom.
We look to the members of the Knight Circle as our entrusted "defenders" of our mission. Members are signified by the Knights lapel pin.
On November 19, 2021, we honored Knights Circle members at a reception at the school. More than fifty guests gathered to enjoy food, drinks, fellowship and a tour of the new addition for the Eighth Annual "Knights Circle" Reception. Several new Knights were inducted into the Circle which now includes over 120 households.  See the full list of Knight Circle members Knights Circle one-pager 2021.
---
Legacy Society
You can support future All Saints students with a stroke of a pen. 
Through a charitable bequest in your will or living trust, you can ensure that All Saints Catholic School will keep its doors open to qualified students whose families cannot afford the full cost of a private Catholic education. This thoughtful act, which has little or no current financial impact on you, may result in the largest and most lasting one-time gifts you ever make to the school.
Anyone can make a bequest, wealth is not a factor. See sample language Click HERE.
This is an opportunity to sustain a cause you currently support—in perpetuity. You may direct your bequest to be used for the full mission of the school or to a special area of interest: retiring the debt, operations and facility maintenance, tuition, technology and instruction. Click HERE for a Legacy Society form.
Act now – yes, it takes a little planning and perhaps some money but the dividends will be multiplied and the impact will be the long-time investment in a child's future.
Always consult your lawyer or financial planner when including a gift in your estate planning. For more information on ways to make a planned gift Click HERE or contact Alyssa McBride, Director of Development and Communications at (804) 329-7524 x 111 or amcbride@allsaintsric.org.
Thank you to the current Legacy Society Members:
John and Karen Beasley
Sidney and Deb Bragg
Marshall Butler
Estate of Edgar Duffy
Laura Hicks
David and Dorothy Hillgrove
David and Robbie Koren
Maureen McCabe
Ron & Norey Reger
Walter and Marcia Stumpf
David Topf
John and Lynn Tucker, III
---
Giving Tuesday #igiveCatholic.org – Each Giving-Tuesday, the Tuesday after Thanksgiving, the Catholic Diocese of Richmond hosts a #igiveCatholic.org campaign.  This is a national campaign to support Catholic parishes, schools, and ministries. All Saints has a page dedicated to those who want to help advance our mission. Click on/share the link below:
https://richmond.igivecatholic.org/organizations/all-saints-catholic-school-a065f489-ec7a-4f2a-b939-5c68a347b5bd